Artist Spotlights
See the retired "Face-to-Face" collaborations where we've made trending artists' work into cookies!
@JuniorHighLA
Show some love to the coolest non-profit in LA with this collection designed by the talented Faye Orlove. Junior High LA is a 501c3 community space, gallery, and Mag prioritizing the safety + expression of female, queer, nonbinary artists + artists of color! Support them here.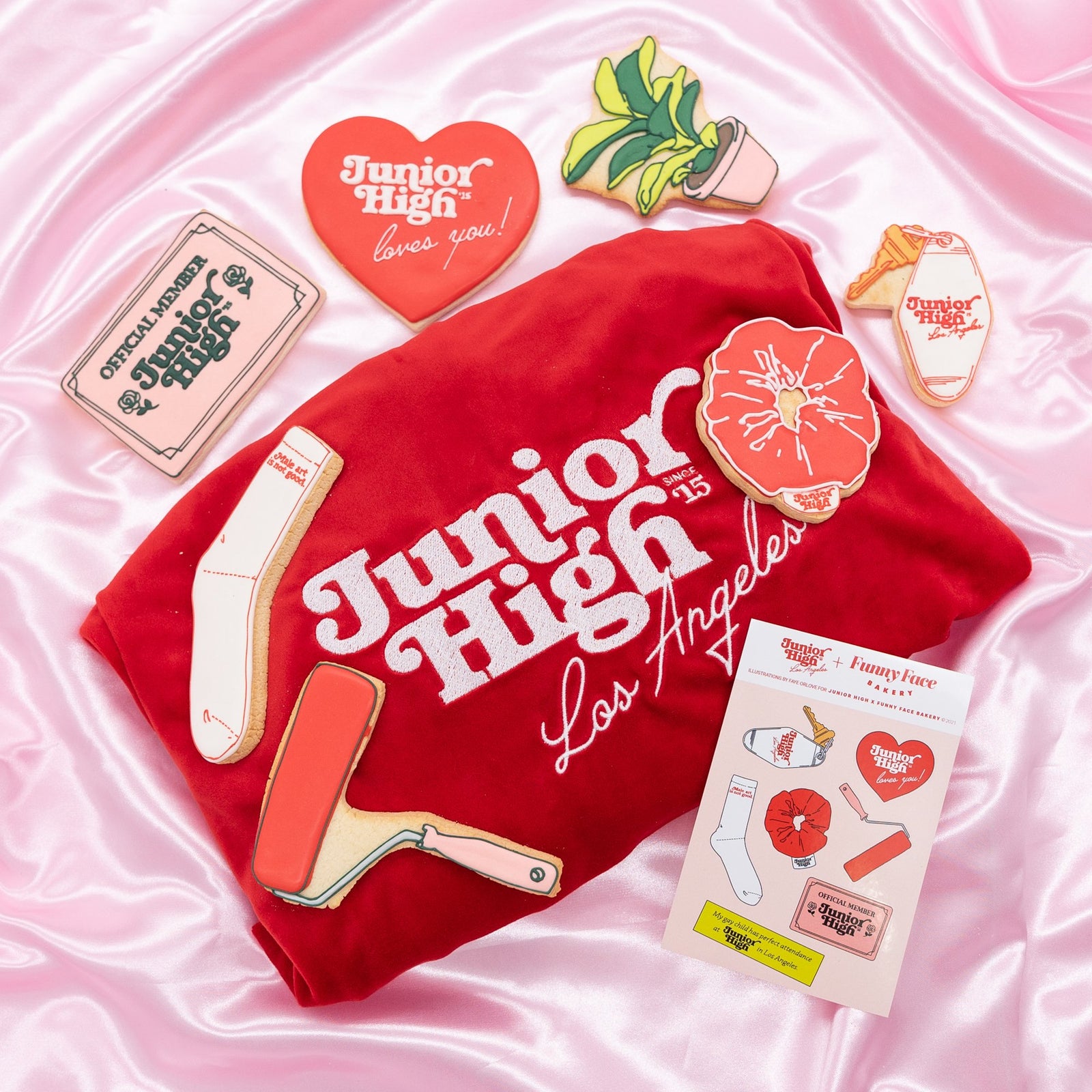 Tell us about your company Junior High, how do you support artists of all different backgrounds?
Junior High is a non-profit community space in Los Angeles! We showcase art made by women, nonbinary artists, queer artists, and artists of color. Our priority above all is the safety and self-expression of marginalized communities. 
What makes Junior High distinguishable in the creative industry?
I think a lot of feminist-driven spaces can come from a place of anger — and there is a lot to be angry about! — but Junior High resolves to be welcoming, warm, and full of laughter. I think that is what sets us apart!
You're an established artist, what piece of advice would you give a new artist trying to pave their way?
The most valuable advice I have would be to trust yourself, ask for help, and finish the things you start. I think what sets successful people apart from others is motivation, not necessarily skill level or higher education. I truly believe that the best artists don't always have the most talent, but they have the most drive. 
Community is COOL. What's Junior High's mantra?
Everything about Junior High is DIT (do-it-together!). We believe that working collectively, acting from a place of empathy, and radical acceptance will create a warmer and more equitable Los Angeles.
@ArtsyAffirmations
Artsy Affirmations is a positivity-based design studio created by a boy-band obsessed sister duo - follow them here.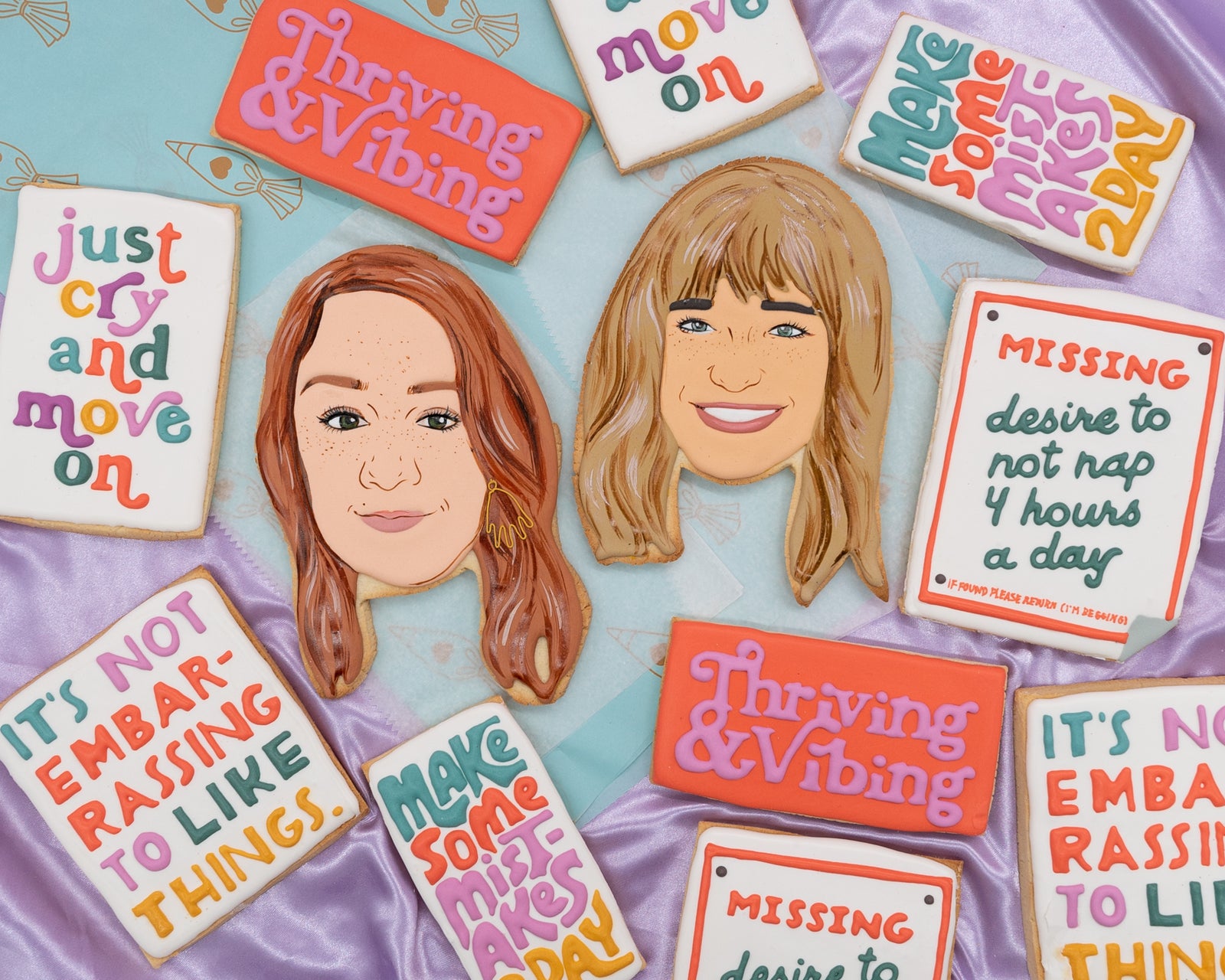 Tell us about the *faces* behind the brand....
Artsy Affirmations was created by Kerra and Faith, a sister duo who love boybands, books, and bright colors. Kerra has a degree in psychology and Faith a degree in graphic design, which paved the way for Artsy Affirmations to be born. 
What inspired you to start this business?
We wanted something that we could do together as adults, so we combined our expertises into creating a business that shares positivity and mental health tips in a beautiful and fun way!
You're all about positivity, what kept you motivated to stay positive during such a challenging time this pandemic?
It's hard for anyone to stay positive all the time, and we're no different. The number one thing that kept us smiling this pandemic was finding time to do little things that we enjoyed, whether that be reading a new book or watching a favorite TV show, and recognizing that we still had control over little moments of joy like this even though we couldn't change a lot of what was happening pandemic-wise. 
What's the best piece of positive advice anyone has ever told you?
Do what you enjoy, and do it unapologetically! You're in charge of your future, so make sure you're happy with the direction it's headed.
What piece of positive advice would you tell an aspiring artist?
Just keep creating what you enjoy creating! It's so hard to not want to fall into the "well they're creating this and having success with it, so I should do that too" hole, but seriously. Don't worry about what other people are doing, just keep making what makes you happy. When you're passionate about something that passion will show through in your work and people will recognize that and want to see more.
@StylishSista
Stylish Sista is an artist and lifestyle blogger that encourages body positivity and inspires women to be stylish in their own way. - follow Taelor here.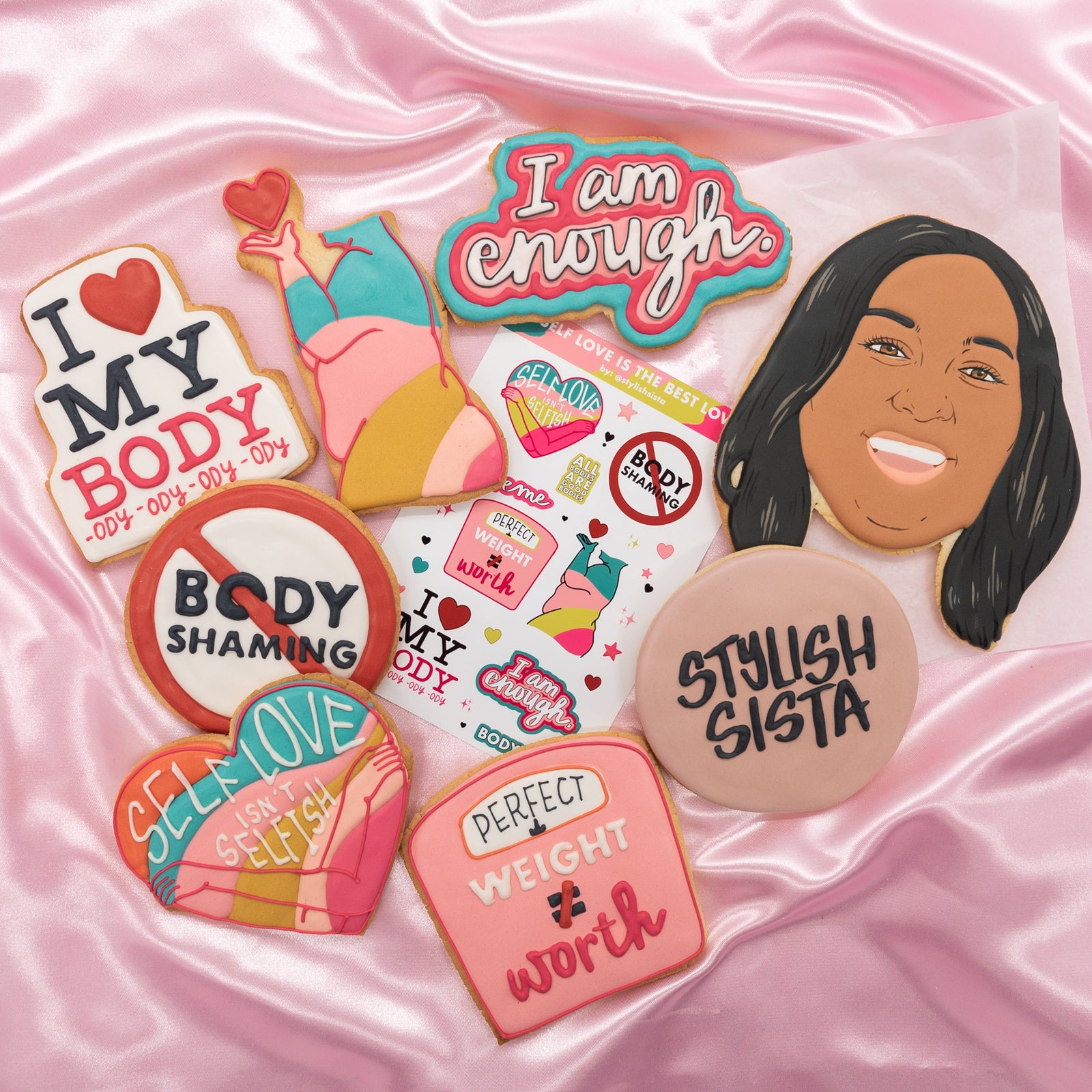 Tell us about your brand, why did you start Stylish Sista?
I started Stylish Sista as a style blog for my alter ego, Stylish Sista. I wanted to have a space where I could empower and inspire women that no matter what size, budget, or age, we could all be stylish. 
You moved from Texas to NYC, did your move change your artistic style?
It did! When I moved to NYC I saw and appreciated so many different styles of art. I explored styles a lot more and really found that I always come back to one that is bold. 
What did you discover about yourself as an artist and young professional since you've made that move?
I discovered that Stylish Sista is me. I didn't need to hide underneath an alter ego to express and love that side of myself.
We're both NYC brands promoting art and creativity, what other artistic brands or people inspire you the most?
Forever inspired by @jadepurplebrown and @morganharpernichols. Both of their art styles speak to me every time I see their work.
Your collection instills body empowerment and positivity - what's the best piece of advice you could give someone who lacks confidence?
Realize that you are the ONLY you! Hold your uniqueness in high regard. Start speaking kindly to yourself. And surround yourself with people that build you up and love for you. 
Let's Cookie-vise Your Art!
We think your art is sweet - let's turn it into something edible. Fill out the form below and include your Instagram handle and we'll reach out if we think your art will make for some awesome cookies!